Japan
Nara City Sightseesing Guide (JAPAN)
最終更新日
From 710 to 784 the capital of Japan, Heijokyo(平城京), was located in present day Nara City. As is shown by the number of extant historical Buddhist images and buildings around Nara City,  Japanese culture flourished here under the region of successive emperors and empresses during that era. Several historical sites have been registered on UNESCO's World Heritage List as "Historical Monuments of Ancient Nara". Undoubtedly Nara is a treasure house of ancient history and culture set in a beautiful natural environment.
Todaiji Temple(東大寺)
World Heritage Site
This temple is famous for the massive Vairocana statue, which is popularly known as Daibutsu(Great Buddha). Founded in the 8th century, the Daibutsuden Hall which houses the statue, was burned down twice in fires that broke out as a result of war. The present structure, which was rebuilt in 1709, as scaled down to two-thirds of the original size. Nevertheless it is the largest wooden structure in the world.
Gangoji Temple(元興寺)
World Heritage Site
This temple was originally founded in the 6th century as the first Buddhist temple in Japan.Even today several 6th century-roof-tiles are used for its Gokurakubo and Zenshitsu halls. These halls are said to be the architectural remains of the 8th century dormitory for Buddhist monks.
Kasugayama Primeval Forest(春日山原始林)
World Heritage Site
This sacred forest extends behind the Kasuga Taisha Shrine.Since 841 when hunting and logging in this forest were banned , the forest has been preserved in the primeval condition. This has made the forest a sanctuary for various protected species.
Heijo Palace Site(平城宮)
World Heritage Site
For about 70 years from 710, the capital of Japan was Heijokyo located in present day Nara City.  Heijo Palace was situated as the northern end of the capital. Covering approx.  1.3km from east to west and approx. 1 km from onrth to south, this site has been preserved as a special historic spot of Japan. Both of the Suzakumon Gate(1998) and Daigokuden Hall(2010) were restored.
Toshodaiji Temple(唐招提寺)
World Heritage Site
This temple was founded by Chinese Buddhist priest Jianzhen, Ganjin in Japanese, in 759 as an institute dedicated to learning of Buddhist commandments. Several buildings in this temple date back to the 8th century remaining, and the lecture hall is a building used at Heijo Palace.
Kofukuji Temple(興福寺)
World Heritage Site
Originally founded in the 7th century , 2010 marks the 1300 anniversary of the founded of this temple. The five-story pagoda, a symbol of Nara City, was reconstructed about 600 years ago (1426) after it had burned down five times. A lot of national treasures and cultural treasures are exhibited at the temple's museum, Kokuhokan.
Kasuga Taisha Shrine(春日大社)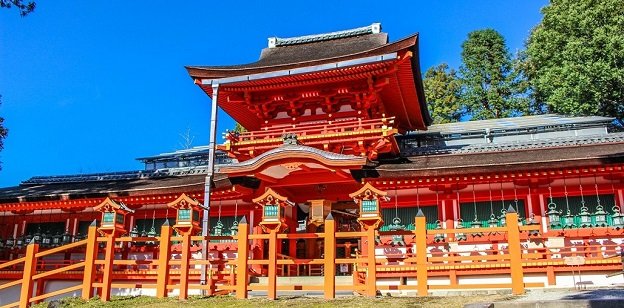 World Heritage Site
Both paths to this shrine are lined with approx. 2000 stone lanterns, and the eaves of the shrine itself are decorated with around a thousand hanging bronze lanterns . It is also impressive to see the vermilion colored shrine buildings with cypress-bark roof stand in harmony with the natural environment. 
Yakushiji Temple(薬師寺)
World Heritage Site
Originally founded in 680, this temple prospered under the patronage of the imperial court in the 8th century. Since that time, the temple was to tragically lose all of its buildings to fire, with the exception of its east pagoda. Restoration work has continued since 1967, and today visitors can see many buildings reconstructed by using traditional methods and techniques.